We have over 32 years of experience in Southern California courtrooms and extensive technical knowledge of trial presentation technology that drives our use of cutting edge practices and technologies. We utilize the latest trial presentation tools, including software such as TrialDirector, SanctionII and TrialPad for the iPad. On the same note, our familiarity with courtrooms and "Hot Seat" experience have allowed us to specially design our courtroom presentation systems to be adaptable to any courtroom.
We travel wherever our clients need us to be. We have familiarity working in and setting up trial presentations systems in virtually every courthouse in Los Angeles, Orange, Riverside and San Bernardino Counties.
The Science of Storytelling in Trial Presentation
Studies have shown that most people are visual learners, yet trial lawyers tend to be auditory or kinesthetic learners. A litigator who does not communicate in a manner that corresponds to someone's learning style results in a disengaged audience. Furthermore, neuroscience demonstrates that when people are presented with bare facts and statistics, they become further entrenched in their existing views.
Timelines, videos, graphics, and animations are only a few of the methods that can convey information and experiences to the jury creatively. Retention rates have shown to increase significantly when information is presented in simultaneous listening and visual formats.
Relating back to our extensive experience in the courtroom, we are especially aware of problems associated with inaccurate or incomplete text-to-video synchronization. Video depositions synchronized by CVisualEvidence will provide you with the most reliable presentation in the courtroom.
We can convert and synchronize video depositions to and from several formats, including MPEG-1, MPEG-2 & MP4 in resolutions from 352×240 through 1920×1080. We welcome large volume cases that require fast turnaround. We are specialists when working with translated depositions.
San Bernardino Dept. 3, circa 1987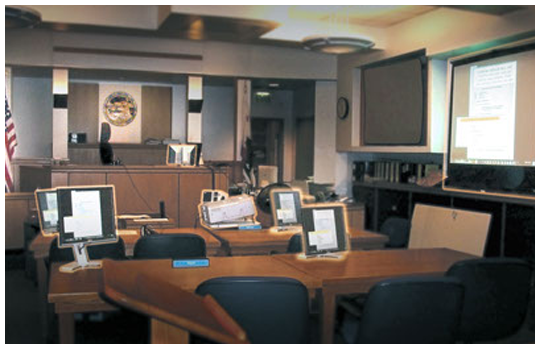 Central Civil West, circa 2011
COURTHOUSES WE SUPPORT
Stanley Mosk Courthouse
Central Civil West Courthouse
CCW Courthouse
Chatsworth Courthouse
Burbank Courthouse
Glendale Courthouse
Norwalk Courthouse
Long Beach Courthouse
Governor George Deukmejian Courthouse
Riverside Courthouse
San Bernardino Courthouse
Santa Ana Courthouse
Torrance Courthouse