Our 70″ and 21″ High Definition Courtroom Monitors
CVisualEvidence offers competitive advantages on all levels of service, even when it comes to courtroom equipment rental and installation.
Courtroom Equipment Rentals
The last thing you need to worry about is hardware. CVisualEvidence rents state-of-the-art courtroom presentation equipment to attorneys for use in all Southern California courtrooms. The equipment you need will be delivered, set up, and broken down by professionally trained technicians.
We own our presentation equipment and our equipment was acquired specifically for use in the courtroom. This means our projectors are small, very bright, and extremely quiet, and court reporters often times do not know when the projectors are running. Our projector stands have very small footprints which are required in crowded Los Angeles courtrooms with limited space. Every courtroom is different and every judge has different requirements; CVisualEvidence technicians work with the court staff to ensure setup is a seamless process. We want you to have every advantage possible going into trial. We are able to eliminate the guesswork and get it right the first time.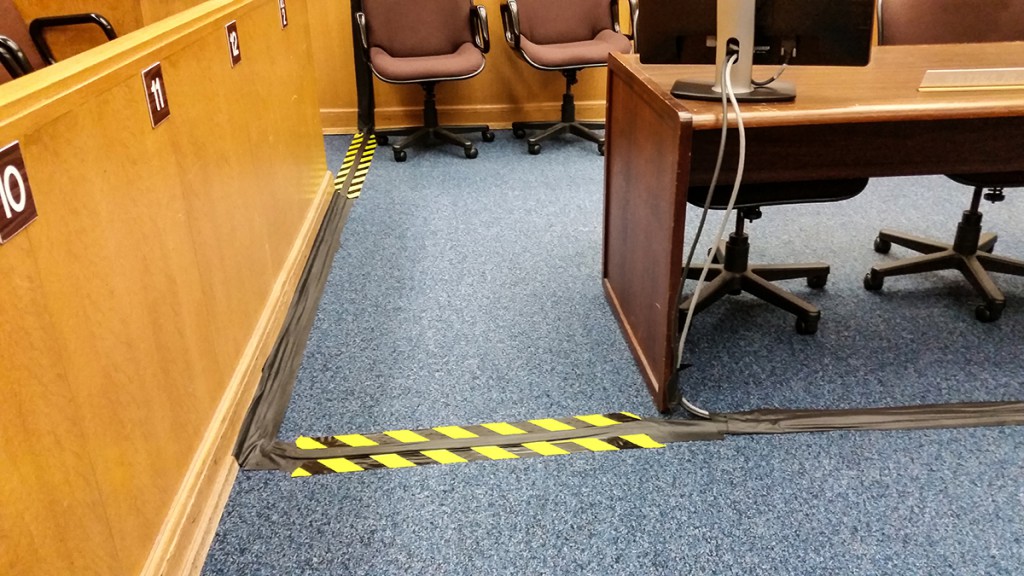 In addition to our equipment design and features, we have a long history of serving litigators, particularly in Southern California. Our 32 years of experience has made us familiar with most courthouses in Los Angeles, Orange, Riverside, San Bernardino, San Diego and Ventura counties. This gives us the insight to such instances when the screen is required to be set up in the audience or when no monitors are needed and/or allowed for the judge and witness. We know to use caution yellow tape to secure cords to the floor to minimize safety risk such as tripping. Court clerks are very pleased with us for being aware of this factor that most trial presentation companies do not even consider.
Available Equipment
From easels to 70-inch large screen TVs, CVisualEvidence has what you need, including:
Elmo Document Cameras – Standard and High Definition

Projectors & Screens

Trial Presentation Computers

17" to 70" Monitors

Printers, copiers, scanners

Switchers, distribution amps & all necessary cabling
CVisualEvidence can take care of all your equipment needs. We are reasonably priced and able to handle last minute requests. Contact us for a free quote.
[rev_slider mini_slider]
Our 80″ screen and 19″ standard definition courtroom monitors. Also available is a 100″ screen.
COURTHOUSES WE SUPPORT IN SOUTHERN CALIFORNIA